Joined

Sep 21, 2007
Messages

264
Reaction score

17
I am selling two fermentors.
Both are jacketed 15 gallon capacity glycol fermentors.
First fermentor is from Brewers Hardware.
15 Gallon Stainless Steel Glycol Jacketed Conical Unitank with Tri Clover Compatible Fittings Free shipping to all addresses in the lower 48 states! Our conicals are heavy duty and are shipped via freight to ensure a proper delivery and so no damage occurs during shipping. Please include your...
www.brewershardware.com
It was purchased in 2017, and has been maintained properly. Perfect working condition.
Comes with all the accessories that came with it (refer to the listed website for information).
I am asking $1100 for this fermentor.
Second fermentor is from Glacier Tanks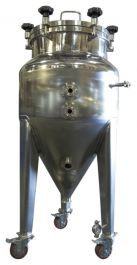 A conical fermenter allows for the fermentating and the aging/storing of the brewing process to occur in the same vessel. Get a new 15 Gallon Fermenter - Jacketed - Glycol from Glacier Tanks, your neighborhood brewing expert. Talk to us! Brew with us! Share with us!

www.glaciertanks.com
I purchased this from an individual off this site, about 3 years ago. I am unsure when it was originally purchased by him.
The fermentor is in excellent working condition, and comes with all accessories as well.
It does appear that the one that Glacier Tanks currently offers, is a bit different than the one I have (extra ports up front).
However, this one works great, and I have no complaints.
I am asking $1500 for this fermentor.
Both fermentors are currently in operation, awaiting sale.
The reason for selling these fermentors, is because I need larger ones.
These are located at a Brewpub in Commerce, Texas (NE of Dallas).
Please contact me through PM
These are first come first serve - no holds.
If you are interested in both fermentors, I am willing to make a deal, but won't give them away either.