Selling my awesome kegging system. Looking for someone in the NYC area, as shipping would be impracticalThis is a sweet little space-friendly setup I figured out to fit my apartment. It includes:
3 gallon keg
Regulator
5lb co2 tank
A stainless "beer gun"
A mini fridge that fits it all inside
All together it's $745 new. I'm letting it go for $450
links to the stuff I'm selling, if you were to buy it new.
Same as our Draft Brewer® Single Keg System (K503), but with a new 3 gallon keg instead of a 5 gallon. The smaller size is easier to transport and takes up less fridge space, but won't hold an entire batch. Measures 18" tall by 10" wide.
www.northernbrewer.com
The most popular size for homebrew draft systems and the perfect match for our keg systems . Small and lightweight, this tank can fit inside a commercial or homemade keezer. A 5 lb. tank should be able to force-carbonate and serve eight to ten 5 Gallons kegs of homebrew.
www.northernbrewer.com
This Stainless Steel Beer Faucet, known as a Pluto Beer Gun, is a high quality hand held beer faucet perfect for dispensing homebrew at parties, picnics, or other events!
www.morebeer.com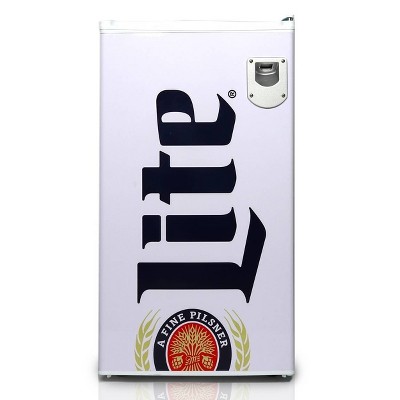 Read reviews and buy Miller Lite 3.2 cu ft Compact Fridge - White at Target. Choose from contactless Same Day Delivery, Drive Up and more.

www.target.com