Recipe Type:
All Grain
Yeast:
US-05
Yeast Starter:
NO
Additional Yeast or Yeast Starter:
NO
Batch Size (Gallons):
5.25
Original Gravity:
1.056
Final Gravity:
1.008
IBU:
37
Boiling Time (Minutes):
66
Color:
6
Primary Fermentation (# of Days & Temp):
7
Additional Fermentation:
Bottle Conditioned
Secondary Fermentation (# of Days & Temp):
20
Tasting Notes:
A very Balanced delicious bier.
Let me say I'm not sure where I should list this recipe as there's not a Blonde recipe database folder... if there's a better place let me know.
This is a simple SMaSH (Single Malt and Single Hop) bier I made to get a feel for the ingredients. I actually made sure this was a very relaxed brew day as I'm usually VERY anal about having everything JUST RIGHT. I decided to relax and only worry about hitting my temps... you know the really important stuff. Thusly I didn't take an OG reading. While I expected this to be a drinkable bier I didn't expect the quality of fantastic taste, good head, and fabulous mouthfeel I got from this beer.
Recipe as follows:
11# Am. 2 Row
1 oz. German Tradition hops @ 65 mins.
.33 oz German Tradition hops @ 23 mins.
.33 oz German Tradition hops @ 8 mins.
.33 oz German Tradition hops dry hopped in the primary, note this was done just as the initial fermentation had slowed about 1-1 1/2 day from it's peak, referred to as hot side dry hopping.
Yeast US-05
Mash Temp 151-152. (actually intended to mash at 154, but missed target)
Fermentation Temps 65-68 degrees
OG 1.056 (estimate)
FG 1.008
ABV 5.7%
SRM 6
IBU 27
Bottle Conditioned with 3/4 cups plus 1 tablespoon corn sugar.
I was really afraid this beer would wind up thin or watery with me being a little low on the mash temp target and it having no caramel/dark malts for backbone. This simply isn't the case. I was not familiar with these hops, but have now fell in love with them as they have a real candy sweetness and wonderful earthen spicy notes. This will be brewed again soon and possibly become the house ale. Enjoy the pics below of the label, the lacing, and a pic of the bier at 1 week (under carbed without full head).
This is at 1 week in bottle and isn't fully carbed, chill haze dissipates as it warms. Looks a little dark in the pic, it really is about 6 SRM.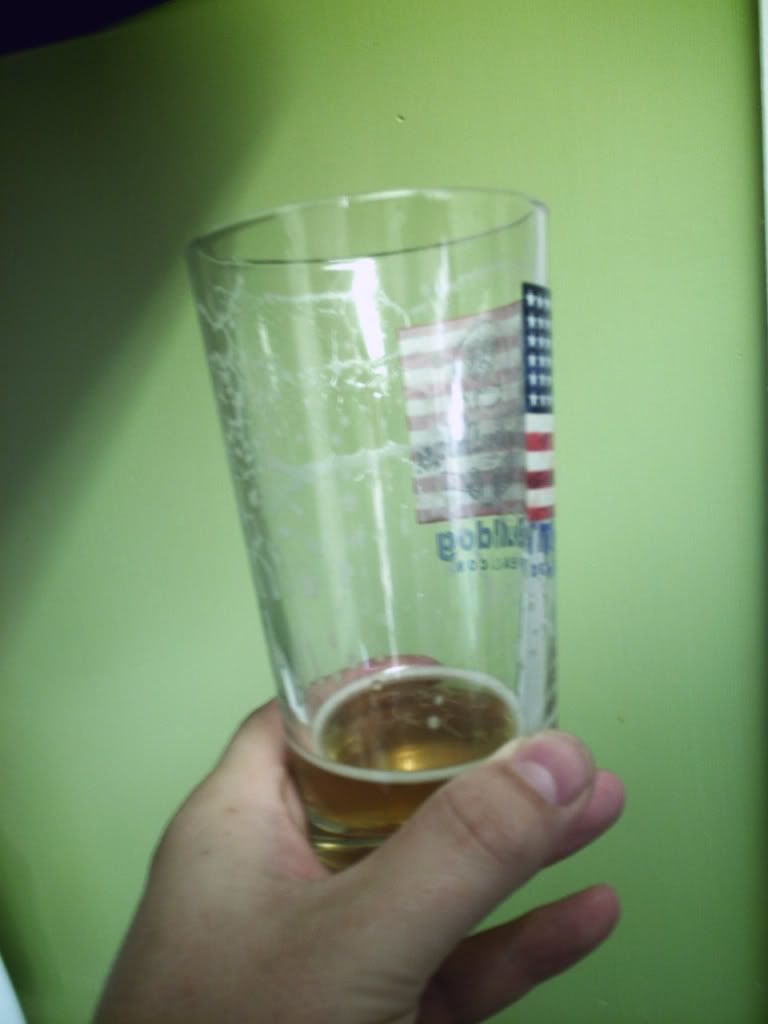 Best lacing I've ever had in one of my biers.