Yeast:
Danstar Belle Saison
Yeast Starter:
no
Batch Size (Gallons):
6
Original Gravity:
1.057
Final Gravity:
1.006
IBU:
24.4
Boiling Time (Minutes):
90
Color:
5.2
Primary Fermentation (# of Days & Temp):
28 days @ 76-80 F
Secondary Fermentation (# of Days & Temp):
none
Tasting Notes:
Dry, spicy beer. Oak adds a mild complexity.
This recipe recently won crowd favorite and brew club favorite at our annual brew club brew-off. Shout-out to Bicycle Brew Club in Baton Rouge.
11 lbs. Pilsner
1 lb Munich
1 lb Rye Malt
0.50 Acidulated Malt
0.7 oz. Northern Brewer @ 60
0.3 oz. Northern Brewer @ 15
1/2 ounce light French oak cubes in primary
Danstar Belle Saison yeast
No-chill
Mashed at 149 F for 75 mins
My first time using the Belle Saison yeast. Took off within hours and went strong. After a week I pulled a sample and wasn't too impressed with the beer. I let it sit a total of a month in primary and then kegged it up a week before the competition. Tasted fantastic after that week in the keezer. We went through 5 gallons pretty quick.
I wish I had a better picture after it was fully carbed up.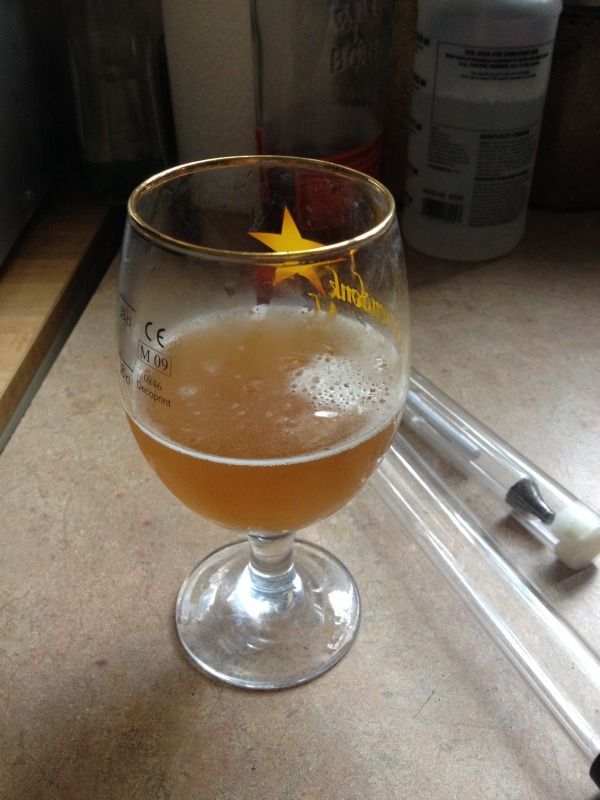 Edit: Hmm. Couldn't figure out how to tag it as All-Grain. Sorry about that.