Well, i'm officially moving in about a week and a half to a place where i can actually have my brew stand out and usable again!
So before, i had everything in an old tool box from my dad... that way it's portable, i can put it on a table and start brewing (since i was in an apartment, thats how i did it)
Which is where this was born!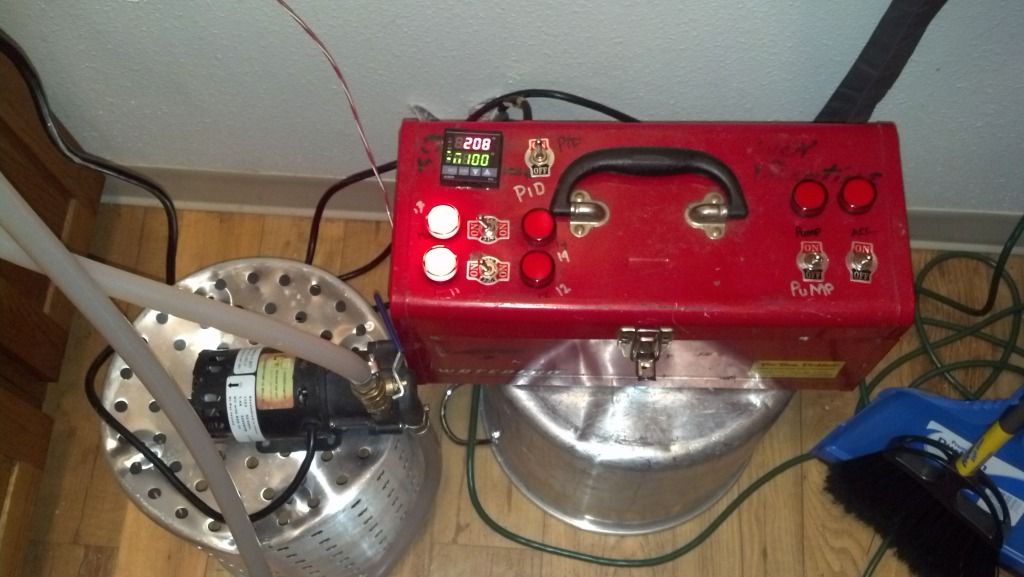 Which worked, but now that i'm able to use this again (nix out the propane burners).
So i wanted something that i could attach to the brew stand and look a bit nicer. So after $12 or so bucks, i got a new box and went to work today at "work"
and about 3 hours later, i have this! (not that i'm lazy at work... i work in the IT field at a help desk... so i don't really work unless the phone rings.... at least today was that kinda day)
And yes... the SSRs did get a bit melty... in the other setup, it got hot as hell in there one hot day, with the sun beaming down on the tool box.. so i usually just left the top open, but now at least i have the heatsinks outside, so hopefully that'll help while i wait for a fan.
Don't mind how "straight" the "on/off" labels are.... going to fix them, i just don't have a pair of plyers at work to tighten those nuts.
Oh yeah. Instead of paying a ton of money for an actual enclosure of the same size, i just opted for trying a "cash box" which ended up working beautifully for this! the PID rests just above the back of the box as well.
http://www.amazon.com/gp/product/B00...?ie=UTF8&psc=1