So after months of building and planning I was finally able to test the new herms system. I water tested it about a week ago and picked up my grain to make a 10g batch of IPA with Chinook.
So first off here is the completed system:
Here it is all mashed in. I know I had ordered a thermometer for the side of the MT and it didn't come in on time and I am inpatient so I went ahead and used my older thermometer and decided to brew.
My target mash was 150*. I mashed in and hit my target but my HLT with the herms was a little too hot and when I started to recirculate it jumped up to 152-153ish. So I have to make sure next time to get the temps right, but for my test batch it was nothing to freak out about.
I hit a snag when I was recirculating, and I am not sure what happened. When I started I could see some air going into the pump so I had to shut it down a few times and give the mash a nice stir. After about 15 minutes of recirculating all the issues were resolved and it was running nicely.
Oh don't forget to have a beer handy. No its not a widmer hefe, its my buddies baby bastard he made. Delicious..
The delicious Chinook hops all bagged up. 3 oz @60, 2oz @ 15m, 1 oz @flame-out.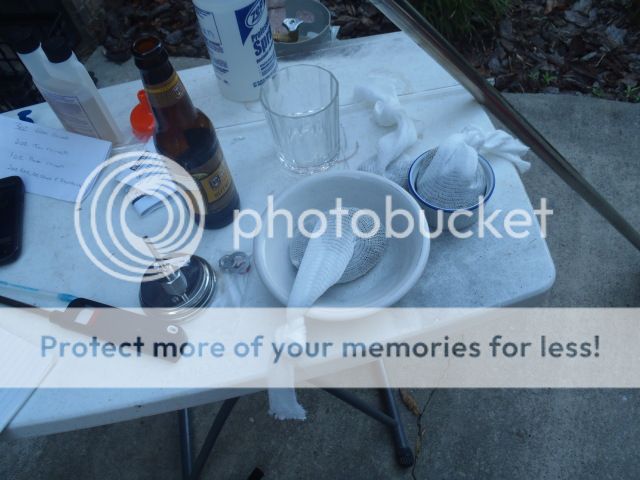 Here is the start of a boil. I almost had a boil over but fortunately I had my spray bottle ready and got it under control.
Alright everything went really well as I hoped, UNTIL it came time to chilling. I wanted to try to use the herms coil to chill so I started to recirculate the boiling wort through the coil to sanitize. The pump wouldn't prime properly and the water in the HLT to chill the wort got to warm too quickly and it is not efficient at all the use the herms coil.
I am planning on either making another IC that is twice as long as the one I have or go and get a plate chiller
All and all a great brew day..
Cheers