Quote:
Originally Posted by
Lennie
I've used my Brewhemoth conical for four batches now and decided I'd better take off the valves and clean them. I tried to disassemble them but even though I removed the bolts holding the two halves of main body together, the handle part wouldn't allow them to come apart. Does anyone have a schematic or can you describe how to get these apart?
Not a Brewhemoth owner.
All my butterfly valves from different manufactures disassemble the same way.
Quote:
Or is it even possible to do this?
The first thing you have to remove the screw, set screw or bolt from the handle.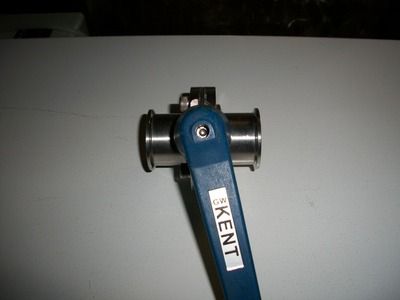 The hard part is the handle removal, requires a flat screwdriver and force.
Some valves have a square or rectangular shaft.
Quote:
Looks like theres a rubber gasket material in the center that the butterfly valve seats on.
After you remove the four bolts and a little force the valve comes apart.
The gasket looks like the black one or the white silicone.
I just replaced the gasket a few weeks ago.
The butterfly valves don't need to be disassembled for cleaning like the ball valves.
No dead space for any material or fluid buildup.
Cheers,
ClaudiusB