Most of the sanitzers we use, especially Starsan and iodophor are
No rinse/wet contact sanitizers.
They are literally double edged swords. They kill two ways. They kill everything on the object prior to sanitizing, and then as long as they are still wet they form a sanitizer barrier that kills everything that comes into contact with object.
If you let the sanitizer dry any micro organism that comes in contact with the sanitized object, rather than being killed by it, makes the object no longer sanitzed.
If you let it dry you are reducing it's efficacy by 50%
If you rinse it you are doing the same, PLUS running the risk of infecting from any contaminants in the water.
You really want to sanitize right at the time you are using the thing you are sanitizing. And let the wort/beer flow on top of it.
But the other thing, is that the "foam" in starsan breaks down in contact with the wort and beer, and becomes yeast food...it's actually really a good thing for your product to have that foam in there. It's your friend, it makes the yeast happy.
I put a lot of good info and tips of effectively using sanitizers in here. Including a podcast by the creator of starsan, talking about that and more-
http://www.homebrewtalk.com/f39/sani...uestion-54932/
When folks say, don't fear the foam, we aren't saying "don't rinse it." Just rack on top....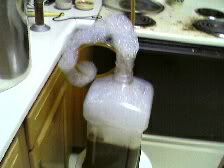 It's also fun!
http://www.homebrewtalk.com/f85/stup...r-foam-127044/