There are a lot of threads about how to put together the ball valve fittings in the Equip/Sani and DIY forums.
For the pickup tube, just cut some copper to length, using an elbow for the bend, and a compression fitting on the nipple at the bulkhead.
If you're using 1/2" threaded thermos, then they will fit the same coupling you would use for the ball valve.
I just bought two of these for sight tubes that allow me to use the digital probe thermos I have. I am very happy with them for the price. The only thing I didn't like was that they use a 1/4" compression fitting, where a 1/8" compression fitting would be perfect. I used a short piece of 1/4" OD silicon tubing with a compression sleeve around the probe and it works fine. You could build one easy, except finding the SS coupler may be difficult. Those parts are 1/8" T, coupler, nipple. The sight tube is the same diameter as a racking cane. You could buy one and cut it or use a broken one.
http://www.northernbrewer.com/weldless.html
Here's my homebuild brewstand. I've since added casters and cut some off the center post. It was cheap and easy to build and gives you plenty of room to work on each level.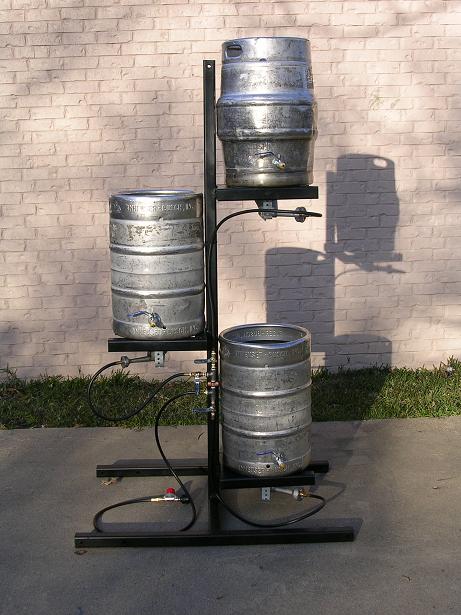 Here are the dimensions of all the parts (going off memory here):
- 5'8" center post. Top of 1st tier is 8" from the ground and there's 24" between tiers.
- (x3) 16" forks on each tier
- (x3) 10" crossbar (bottom of the U for the forks). Note: the forks are welded to the outside of this, for 10" between the forks, 14" outside to outside.
- (x2) 44" posts for base legs(sides of the H)
- (x2) 12" crossbar for base (cross of H), welded to the center post & base legs