I posted this in the larger DIY tap handles thread but thought I would post here seperately. Heres a couple of mine that I just whipped up today. I think they will go well in my rustic bar, plus they were super cheap - I used 2x3 ipe that was laying around from the bar trim project.
8 inches tall. I drilled a 1/2 inch wide hole for the brass tap inserts found on mcmaster (item 90016A031). I was able to start to tap the hole with the threads but ipe is a hella hardwood so I may need get a tap and die set or something. Either that or I drill the hole larger and epoxy them in.
The letters were free handed in and burned with my woodburner torch.
I plan on making wit, stout, porter, blonde, and lager, and maybe a few blank ones that I can burn at a later date or just add paper labels to.
I would also like cut a few dovetails on the opposite side where I can print labels with specific information on each beer.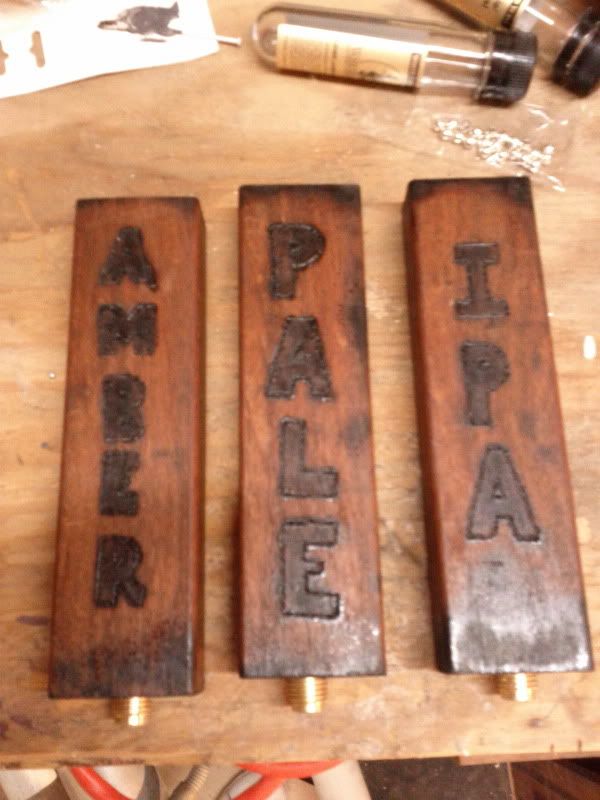 __________________
Ferm Chamber on top of Keezer / Through Wall / All in One Build
Primary:
Two Hearted Clone[B]
Secondary:
Table Red Wine, Table White Wine
Kegged:
Oberon Clone, "Campfire" Hoppy Red Ale, Brown Trout Stout, Cider
Bottled:
Random stuff(Cider, Mead, Wines)
Bulk Aging:
Red wine, Blueberry "Brandy"
Up Next:
Citra Blonde, Kolsch, IPA, IPA, IPA