I've heard the folks who seemed to have learned the hard way that smoking your very first turkey on Thanksgiving is generally a bad idea. It seemed like sage advice, so this week I hunted down a frozen turkey at the grocery store and smoked it.
After poking around some sites and looking for tips, I found this newfangled spatchcocking method and thought it was interesting, so I tried it. If you have no idea what I'm talking about, this link will tell you everything you need to know:
If you haven't tried spatchcocking, please do yourself a favor and give it a shot. The meat is much easier to handle, and it cooks faster.
And it's a great word to work into a conversation.
The other things you're seeing in the pic are supposed to be jalapeno poppers, but all I found at the store were habaneros. Cut in half, seeds and membranes removed, filled with smoked garlic (from a previous smoke) and cream cheese, wrapped in turkey bacon. Unfortunately, I left these in the cooker for far too long and they were kind of black when I checked on them. They were good, though. Well, 'good' in a charred and crunchy hellfire kind of way. I'd make them again.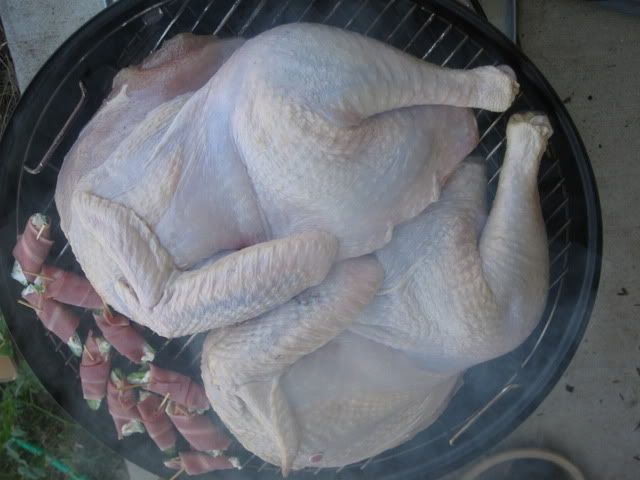 I defrosted my 14 lb birdie for a few days in the fridge, and Thursday night it was spatchcocked and dumped in a brine (salt, brown sugar, garlic, and Worcestershire sauce).
It brined for about 12 hours (not sure if this was actually necessary; the birdie was pre-brined with an 8% solution of something when I bought it).
I loaded up the beloved WSM with a full chimney, and then lit about 3/4 chimney. While the charcoal was doing it's thing, I put a zip loc of ice on each breast (the turkey's, not mine) and let it sit for about 30 minutes.
The reason you would only ice the breast meat is to cool it down enough so it finishes cooking at the same time as the thigh meat. No more dry breast meat with this method!
Anyways, it cooked for about 3ish hours. I took it off and tented it with aluminum foil for about a half hour, and then we dug in.
Because this is summer and I didn't want this meal to seem all Thanksgiving-ish, I grilled up some jojos, onions, and peppers.
The turkey is just amazing. The smoke flavor is there, and it's super moist and flavorful. This was definitely the perfect meal. I have some 2 Towns cider from a local cider house to pair with it. Yum!