It is really better to bulk prime (boiling your priming sugar in 2 cups of water for 5-10 minutes then adding it to your bottling bucket while you are racking your beer into the bucket-this will mix the priming solution and beer thoroughly.)
You have more control over priming this way. Adding dry sugar into each bottle can cause a couple things- the mentos/diet coke gushing effect, OR inconsistant carbonation, it is really difficult to accurate measure out a tiny amounts of sugars without getting a few grains more or less in each bottle, you could end up with inconsistant carbonation.
Carbonation drops are ok, but some folks say it takes longer for them to carb up than the 3 weeks @ 70 degrees it usually takes, and there's a lot more sedimentation in the bottles.
But other folks like them.
Priming sugar, which is corn sugar is sort of the standard sugar to use. It is what comes in the kits, in 4.5-5 ounce packets. I prefer it over any other sugar, but you can also prime with table sugar, dry malt extract or really any fermentable sugar, but priming tabs (which usually are corn sugar,) table sugar, priming sugar or dry malt extract are the most common.
You have to use different amounts depending on which sugar you use. I have a chart in my bottling sticky which I will link at the end of this post.
For most beers 4.5-5 ounces of CORN sugar is "the norm" which produces approximately 2-2.5 volumes of co2.
That tends to work for most basic beers. As you get more into it, you can "Carb to Style" by increasing or decreasing the amount of sugar to produce more or less co2 in the beer. Here is a chart that gives you an idea....using this and brewing software will give you an idea.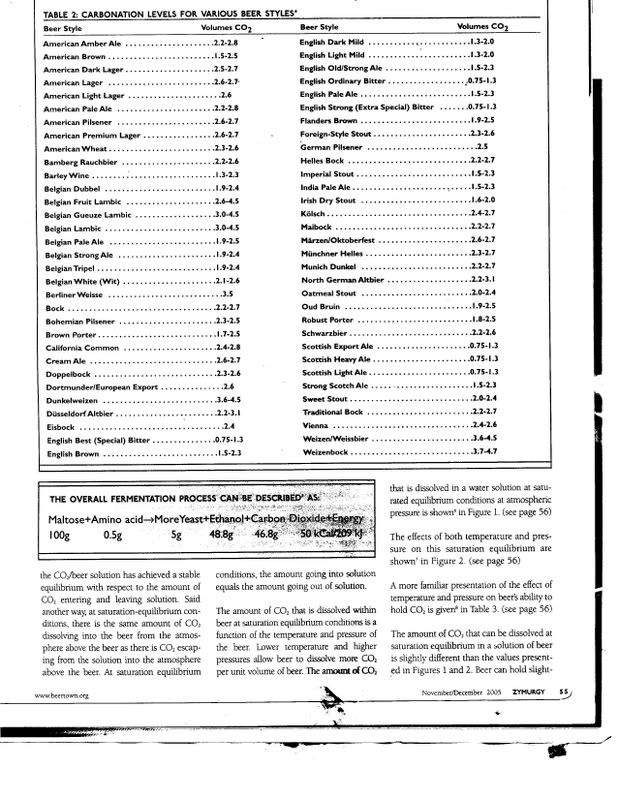 I put together a hints and tips thread for bottling that got stickified,
Here.
You can find most questions answered in there.
Good luck