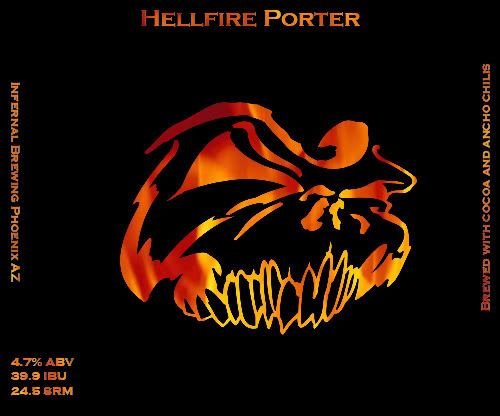 75% efficiency
5 gallon all-grain
1.044 OG
4.7% ABV
39.6 IBUs
9.0 lbs 2-row malt
0.5 lbs chocolate malt
0.25 lbs de-bittered black malt
0.5 lbs brown malt
0.75 oz Target (10.7%) 60 min
0.75 oz Hallertau (6.2%) 15 min
0.25 ozHallertau (6.2) 5 min
8 oz cocoa powder (secondary)
3 chopped dried ancho chilis (secondary)
White Labs WLP002 English Ale yeast
Primary: 2 weeks @ 65F
Secondary: 2 weeks @ 75F
Bottle conditioned for 3 weeks
I basically took a generic porter recipe and added some dark cocoa powder and dried chilis in secondary as an experiment. While it turned out pretty damned good, it's not quite what I was going for. With the ancho chilis, the heat is most noticeable at the back of the throat, while I was hoping to have it blend in with the chocolate flavors a bit more. I'm thinking about trying a mix of serrano and either jalapeno or poblano peppers next time to get a more pronounced burn that mixes in with the cholocate and the coffee flavors a bit more. I also screwed up the batch sparging by leaving the damned ball valve open when adding the last few gallons of sparge water, killing my efficiency. I'll update this recipe when I can remember to not do that again.
Even so, it's a pretty good beer on its own. My girlfriend (who only kinda likes some beer) absolutely loves this one and is really starting to get into darker beers like porters and stouts. Over the weekend, we went to BJ's Restaurant & Brewhouse and she loved their Imperial Stout so much she chugged 2 within the space of 10 minutes.
Yes, I drove back home. No, I only had one beer.