I've always kind of thought the whole concept of recirculation was overkill. Thought I'd never see a real reason to mess with it, unless my efficiency was suffering. Well I still haven't really recirculated the mash too much, which is what MOST people focus on recirculating...and rightfully so. The most I've recirculated the mash, was just vorlaufing back into the MLT before running off. My cooler is holding excellent heat and getting (usually) a pretty good efficiency, so I just haven't really had a reason yet to recirculate the mash. However a recent incident made me do a little recirculation in my Brew Kettle. Just thought I'd share the experience:
While batch sparging, my brew buddy was helping me stir up the mash before run-off. He stirred enough, so we recirculated/vorlauf'd for a moment back into the mash before pumping into the BK. However, when I hooked up the pump and started pumping over, my buddy decided it would be a good idea to stir a little more. After a few moments, I realized he was stirring again...NOOOOO!!! I nicely asked him to STOP STIRRING and simultaneously closed the valve, then began recirculated again into the mash to make sure we didn't have any MORE grains going into the BK, and continued the sparge.
Well since we knew there was at least SOME particles that made it over, we decided it would be a good idea to recirculate the BK and run it through the hop bag. While it was our intention to just do this for a few minutes, to get any particles out, I thought ya know...this may be a really good way to make sure we minimize the trub left over at the end.
I've never been able to rack into the fermentors from my bk using the ball valve/pump. I've always had to auto-siphon. Mainly because I don't have a false bottom, and my pick-up tube is only about 1/8in off the bottom of the keggle, and is positioned right in the middle(usually buried in trub!)!
This time I recirculated the entire time, even through the chilling process. The outlet was wedged in the top of the hop bag, and was slowly running down the inside of the bag/pvc collar. I'm assuming this also slightly increased my hop utilization, as well as filtered out any particles or trub that may have developed during the boil. While chilling, once it was down to temp, I just closed the valve, positioned the camlock over the mouth of the carboy(which didn't sit perfectly) and opened the valve. Crystal clear wort, and it picked up every last drop out of the kettle(until it ran slightly murky right at the very last few cup or so and I turned it off). It foamed a little excessively, just because of how I had it dumping in, but I figured this only helps me with infusing O2.
I also decided to use Irish Moss for the first time, and also a swamp cooler. My ferm temps usually hit about 70-72 during heavy fermentation, then cools to about 68. Right now its bubbling away at roughly 60. A little less than maybe ideal, but its an IPA using S05, so I think it will turn out great.
I'm expecting this batch to be crystal clear in appearance and taste, and hoping the hops shine and malt choice will add a nice subtle balance, without any yeasty esters interfering. I used 1lb of C-20 and 1lb of Caramunich 60 in a 10g batch, with an SG of 1.060 and about 72IBUs. A little over what I was shooting for, as I got a little lower eff on this one. Possibly due to my single sparge instead of 2 split sparges. I tried to boil longer to boil off more volume, but it didn't quite work, as my propane was running out, and I just increased my IBUs if anything. Oh well, I look forward to seeing how it turns out, and its been fun fiddling around with my setup/process.
Oh, one more thing I did on this batch, was make a MLT cooler box, that would allow easy tipping of the cooler, to drain every last runnings I could. At first I wanted to use a hinge with a kick stand, but this seemed easier, and just as effective.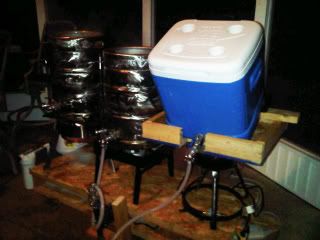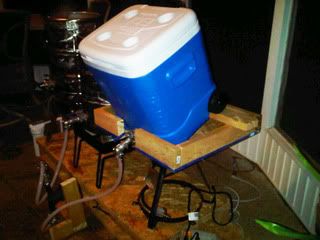 Sorry for the long post, but just wanted to share my positive experience with recirculation. Now I'm certain I'll be compelled to setup some kind of mash recirculation system in the near future. If anyone has anything to add, about why they think recirculation is important or helpful, or any tips/warnings for recirculating the way I did, please feel free to post.
Cheers