I know this isn't strictly homebrewing stuff, but I know a lot us are geeks and might appreciate this stuff.
I'm having to sell pretty much all my computer hardware to pay for a critical surgery I need, so I'm having a freakin' massive sale. Help a member out?
All these parts were given extreme care throughout the entire time I owned them.
I provided links to more information below each item. Feel free to send me a PM if you have any questions at all.
Unmodded RocketFish case - $100
MSI K9A2 Platinum motherboard - $70
http://www.newegg.com/Product/Produc...82E16813130136
CORSAIR DOMINATOR 4GB (2 x 2GB) DDR2 1066 - $125
http://www.newegg.com/Product/Produc...Desktop+Memory
Enzotech Sapphire Northbridge waterblock - $35
http://www.frozencpu.com/products/65...ID_Native.html
D-tek FuZion v2 cpu waterblock - $55
http://www.petrastechshop.com/dfuv2uncpuwa.html
Swiftech MCR 360 radiator w/ steel radbox- $55
http://www.petrastechshop.com/swmcqposerab1.html
Liang D4 pump - $60
XSPC 5.25" bay reservoir - black - $35
http://www.frozencpu.com/products/21...?tl=g30c97s168
Gskill DDR2 1066 2x2gb - $70
http://www.newegg.com/Product/Produc...82E16820231166
Linksys EtherFast Cable/DSL Router - $35
http://www.amazon.com/Linksys-EtherF.../dp/B00004SB92
A set of 3 Vantec waterblocks (southbridge, northbridge) - $20 each
Intel SL7J8 3.40GHz 550 Pentium 4 CPU, 3.40GHz- $20
http://www.txcesssurplus.com/servlet...GHz-550/Detail
AND the motherload...
HP TouchSmart tx2z customizable Notebook PC
* • AMD Turion(TM) X2 Ultra Dual-Core Mobile Processor ZM-87 (2.4GHz, 2MB L2 Cache)
* • 4GB DDR2 System Memory
* • 250GB 7200RPM SATA Hard Drive
* • ATI Radeon HD 3200
* • 12.1" diagonal WXGA High-Definition HP LED Widescreen (1280x800) with Integrated Touch-screen
* • LightScribe SuperMulti 8X DVD+/-RW with Double Layer Support
* • Webcam with HP Imprint Finish (actually has a great built-in microphone too, I was impressed)
* • Wireless-G Card
* • HP Color Matching Keyboard
* • 8 Cell Lithium Ion Batter (I upgraded from the standard 6-cell)
Multi-touch compatible! A vast majority of tablets are only single-touch, not this one baby!
I put a fresh install of Windows 7 Professional 64-bit on there too (legit of course), so you don't have to mess with Vista or all of HP's bloatware.
and, of course, and brand new stylus.
I just bought this a few month ago, but barely used it. I JUST got it back from RMA with HP, so it's brand spankin' new for ya
This tablet was over
$1500
when I bought it, but I'll sell it to my fellow homebrewers for
$1200
This would make a KICKASS addition to a digitally-controlled brewing system. (touchscreen-control of temperatures and ball valves anyone?)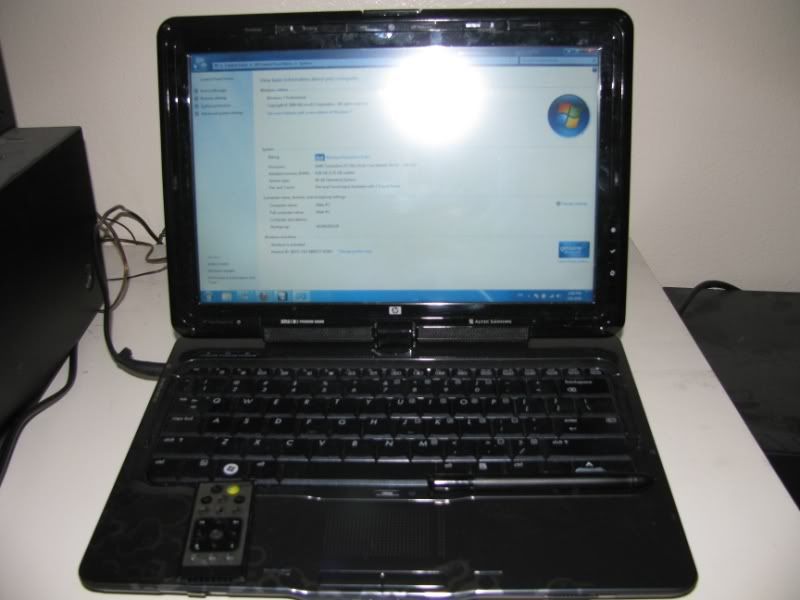 <-- nice little remote to control practically everything- power, screen controls, media center.
<-- Ignore the screen glare, couldn't get a good picture without using the flash. The screen is amazingly clear and doesn't glare at all.