Over the years the same question has comes up, "Which way to mount the magnets on my fan" and we see a lot of confusing answers about getting the most force out of the predictable magnets.
Look at my short and poor quality photobucket videos and make up your own mind.
Here is short video showing four (4) magnets with 5lb of pull force each stacked.
All magnets are axially magnetized.
The tool I used is a simple force gauge.
First test with four (4) magnets stacked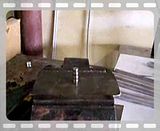 Result