Recipe Type:
All Grain
Yeast:
WY 2278
Yeast Starter:
Yep.
Batch Size (Gallons):
5
Original Gravity:
1.077
Final Gravity:
1.024
IBU:
24.4
Boiling Time (Minutes):
75
Color:
20.9
Primary Fermentation (# of Days & Temp):
30 days, 48F
Secondary Fermentation (# of Days & Temp):
2-3 months, 35F
Tasting Notes:
Palo Santo must be used carefully, but adds a delightful, unique flavor to the beer
Recipe:

11.50 lb Munich Malt (9.0 SRM) Grain 75.66 %
2.50 lb Pale Malt (2 Row) US (2.0 SRM) Grain 16.45 %
1.00 lb Caramunich Malt (59.0 SRM) Grain 6.58 %
0.20 lb Carafa I (337.0 SRM) Grain 1.32 %

0.75 oz Northern Brewer [9.50 %] (75 min) Hops 22.9 IBU
0.25 oz Northern Brewer [9.50 %] (5 min) Hops 1.5 IBU

0.40 oz Palo Santo, medium toast (Secondary 6.0 days) Misc

1 Pkgs Czech Pilsner Lager (Wyeast Labs #2278) Yeast-Lager

Mash in at 138F for 20 minutes, and single decoction of 7 quarts to increase temp to 158F for 45 minutes. Sparge at 170F. After primary fermentation is complete, increase temp to 60F for 1 day, crash and move to secondary. I lagered for just under 3 months this time. Add Palo Santo at end of secondary.

---

This beer is really great. The base recipe is heavily inspired by Braukaiser's doppelbock (http://braukaiser.com/wiki/index.php?title=Imperator) though not identical, but he's always a good reference for German beer questions. It would probably be more authentic to use pislner malt instead of regular 2-row, but I don't think there's a big difference and Palo Santo isn't German anyway, so no biggie.

First time I brewed this, I did 5 gallons and took 1 gallon of that to try the Palo Santo as a side batch. It turned out so well, I had to do a full batch with Palo Santo. As a doppelbock alone, it is very good, but the Palo Santo really kicks it into something else. The doppelbock has all the traditional malty sweetness to it, and I like the Czech pilsner lager yeast to complement this. A bit of carafa gives it a hint of chocolate, but the Palo Santo adds depth with some woody resin, strong cinnamon (!), maybe some fruit and vanilla... Slight hop flavor, some people describe Northern Brewer hops as minty/evergreen, which blends very well with the Palo Santo, and at these levels is very subtle... I'm not the best at describing tastes, and it is really quite unique, so it's difficult to describe. But very, very tasty.

Overall impression: very unique and complicated flavor, great for a dessert beer with chocolate, wood, sweet malt, and cinnamon and spice all coming through.

Advice: Unlike DFH's Palo Santo Marron, the doppelbock is more delicate, so the wood comes through much easier. Be warned: DON'T OVERDO THE WOOD! It's very easy to add too much. I used 0.4oz only for 6 days and it is very strong at first, but will diminish with more age. A few weeks on it has mellowed out and become less forward (I kegged right after racking off the wood). Take samples along the way to get to the desired level-- even this amount could be more than absolutely ideal depending on personal tastes.

You can find Palo Santo sticks on amazon.com. They're pretty pricey by weight, but there really is no substitute for it as far as I know.

First pour from tap, maybe slightly under-carbed still, but very clear: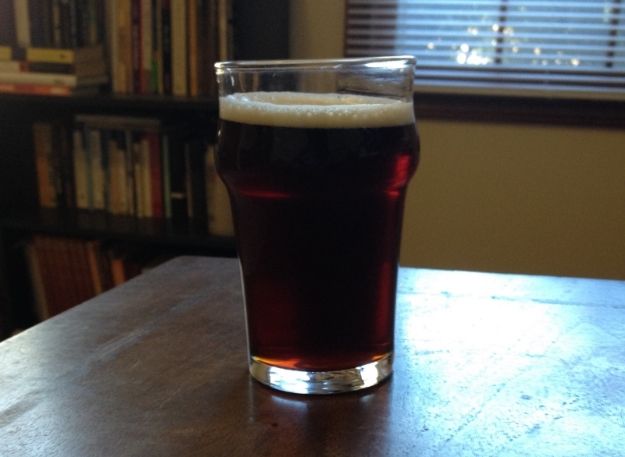 A bit more carbonated, great for spring: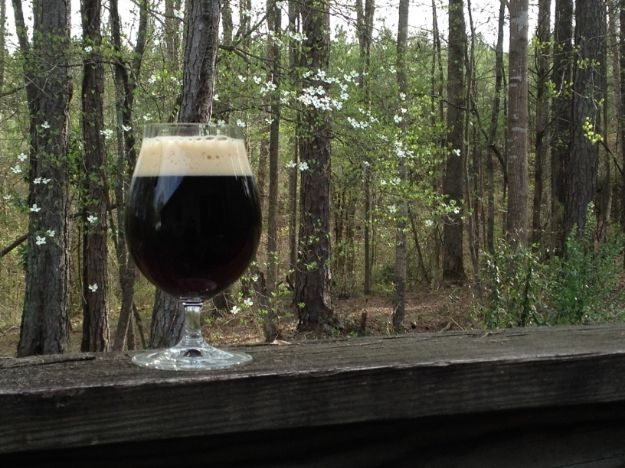 I toasted the Palo Santo wood in the oven at 350F for about 30 minutes. I didn't want to over do it and risk losing some of the rich aromas from the fresh wood, but it wouldn't hurt to go a bit longer.