All, I thought maybe these would be of some use to folks. They are schematics and templates that I designed to upgrade my RIMS system to a HERMS setup.

The files are available in Visio format, which can be printed out and used as templates for your control panel (if you have a Visio-compatible program). The templates are very accurate. Please private message me if you want the Visio files. The Indicator lights and switches are sized for the outside diameter of the device -- not the actual mounting diameter. Simply use the crosshairs to mark your box and drill or punch for the size accordingly. The PID cutouts are at 45mm for a 1/16 DIN mount.

The control panel templates are split into three separate templates, so they can be printed and positioned for different size panels. The panel I use is 12" square. The first attachment is the schematic itself, the following files are the control panel templates in PNG format. Open these files in your browser and they should print out accurate to size.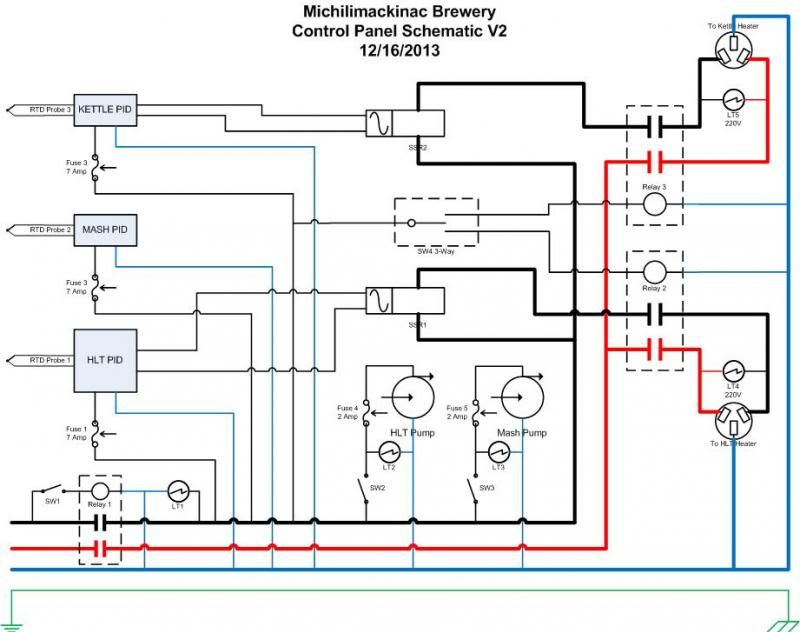 I assume no responsibility for the electrical schematic. It is offered here only as an educational tool. Those of you who wish to build a circuit from it assume all responsibilities and/or risks.

Good luck and happy brewing!