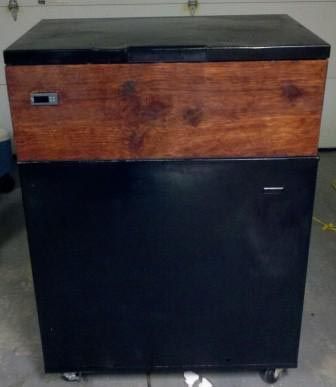 This is my final picture. I have siliconed my inside corners and I put weather stripping on the bottom of the collar. I used construction adhesive to secure the lid to the top of the collar. I threw away the old gasket and took the plastic inside liner that holds the insulation in and tucked it inside the lip of the lid. The hinges are attached to the collar so the lid lifts out of the way. The lid will stay up by it self without a prop rod but this is with out any taps yet so who knows by the time I'm finished.
I drilled the hole for the temp controller slightly to big. I am going to fix this by modifying a socket face plate to hold the controller so that it hides the gap.
Well this is how far I've gotten tonight. I still need to get taps and run gas lines, wire in the temp controller, drip tray and various other things. The wife wants a treadmill so this is going to take me a while. I think until I can save the cash to buy the taps and manifold I'll be at this stage for a while.
I have a question though to those that have secondary manifolds do you often dial in the co2 to each beer? I seem to only use about 30 PSI for Hefeweizen and then 13 PSI for everything else. Should I get one more regulator and a manifold or do 4 secondary regulators.
__________________
Founding Member of B.R.E.W.S. (Border Residents Engineering Wicked Suds)
I'm a beekeeper. Save the bees, Save the world.
"Life should not be a journey to the grave with the intention of arriving safely in a pretty and well preserved body, but rather to skid in broadside in a cloud of smoke, thoroughly used up, totally worn out, and loudly proclaiming "Wow! What a Ride!" ― Hunter S. Thompson